"The strength of a nation derives from the integrity of the home."

Confucius (551 BC-479 BC)



The first country in the world where each day begins!




The following amateur attempt and perhaps jumbled sketch is New Zealand through the eyes of a third generation New Zealander who was born in 1951 (penniless, naked, and vocal) and who has lived in New Zealand ever since. That New Zealander is me, the infamous poet, thus, you'll learn a little bit more about me too. Oh dear. Well, hopefully by the time you've finished reading my sketch you'll be feeling that I've made up for it somewhat with the odd giggle I've managed to tuck here and there.
Please bear in mind that the following is simply a snapshot of New Zealand, past and present (mainly past), and not necessarily an endorsement of certain things I mention in passing, be that music, TV programmes, and so on. Some are simply mentioned in order to give you some idea of what life in New Zealand was like when I was younger, and certain influences that I grew up with. I hope you won't be too bored by the statistics that are sprinkled throughout. I've tried to be stingy with them, and I trust they're relatively accurate, as of 2019, or as stated.
Hope you enjoy the romp, not to mention any digression. Given my love of music, don't be surprised if you find me rambling on about such at times.
Well, once upon a time…..sorry, I couldn't resist. We were taught to begin our stories that way at primary school. Later, we lost marks for doing so. Such reminds me of the title of a song in a Hollywood musical. That's right, "Crazy World."
Okay, to begin:
The Maoris, the indigenous people of New Zealand, call New Zealand Aotearoa, which means, "Land of the long white cloud." However, New Zealand regularly sports one of the most beautiful, clear, blue and cloudless skies in the world.
In the scheme of things, New Zealand is a relatively new country with little in the way of history. No castles with moats, no incredible Michelangelo statues, no pyramids, no leaning towers. You'll probably discover a few leaning lampposts though. Quite a few, maybe.
New Zealand was first discovered in 1642 by the Dutch sailor-explorer Abel Tasman. However, the English sailor Captain James Cook was the first to actually set foot on New Zealand soil, that being in 1769. I wonder if they wore gumboots in those days?
The first permanent settlers didn't arrive until the 1830's.
New Zealand became British in 1840 but gained its independence from Great Britain in 1907 – that is, became a dominion. King Charles is officially king of New Zealand. He is represented in New Zealand by a Governor General.
New Zealand is similar in size to Japan, the United Kingdom, or Colorado, and is notable for its geographic isolation. Surrounded by water, it lies in the South Pacific Ocean, about 2000 kilometres (1250 miles) southeast of Australia. New Zealand is comprised of two main islands, the North Island, where I live, and the South Island, where far less New Zealanders live. Yes, that is the actual names of these islands, believe it or not, hardly creative I know, but functional, I guess. Off the southern tip of the South Island is a very small island called Stewart Island.
Oh, by the way, Christmas in New Zealand, December 25, falls during our summer, unlike Great Britain where it falls during their winter. I must admit those Christmas pictures of little houses blanketed in snow with a warm glow radiating through the windows from the chestnuts roasting by the fire do look rather fetching. But no, I'll try and be content with the warmth of those beautiful summer days we've got to put up with at Christmas.
Oh, before I forget, feel free to grab yourself a snack and a hot cuppa. I won't mind waiting.





The population of New Zealand (5 million) is mostly of European descent, particularly British. Maoris make up the largest minority and Asians and non-Maori Polynesians are also significant minority groups.
New Zealand is no longer a predominately Christian country going by the 2013 census – 47%.
New Zealand's climate is a temperate one. It's neither excessively hot nor cold, the hotter temperature being far North, (Auckland way), the colder temperature being far south (Dunedin way), with degrees in-between. I personally prefer the climate of New Zealand's capital city, Wellington, which sits astride New Zealand's middle -- that is, at the bottom of the North Island, right on the edge, the ocean lapping at its coastline. Wellington is the departure point to the South Island. The waters between the North and South Island, the Cook Strait, named after Captain James Cook, are one of the most dangerous and unpredictable in the world with many currents swirling in all directions. Each day boats shuffle between these two islands carrying passengers, freight, and vehicles. And crew, of course! Stowaways? When these boats reach the South Island they dock at Picton after entering the Marlborough Sounds. The Marlborough Sounds are effectively the entrance to the South Island. The trip takes just over 3 hours. There once used to be a service to Lyttelton as well, an overnight trip. Lyttelton is near Christchurch which sits about half way down the South Island. Boats follow the South Island coastline on their way to Lyttelton.
One drab dark evening, many years ago, I was on one such boat heading back to Wellington from Picton. It was a trip I won't forget, nor the cleaners, I suspect. The waves loomed above us menacingly and the boat shook and groaned as it dived and rose. I think I promised God all sorts of things that evening as I clung to whatever was bolted down. A few years later, April 1968, a boat named the Wahine that shuffled between the two islands, sank within the Wellington harbour on its return from Lyttelton during even worse weather, with a loss of 51 lives that night. It was a big event at the time. However, the crossing is usually uneventful and very pleasurable, especially when one enters the Marlborough Sounds on a beautiful day. It was there, in Port Gore, that my father used to fell trees as a young man. He was born in Picton. These days they don't make the crossing unless they deem it safe, though I think they sail pretty close to the wind at times, if you'll excuse the pun.
The temperatures in Wellington are more even in the sense that Wellington doesn't get blanketed by snow in winter nor swelters in summer, though there can be the odd dusting of snow on the Wellington ranges during winter and in summer it can get rather humid at times. Wellington has a somewhat unfair reputation as a windy city, as there are other places in New Zealand that get pretty heavily clouted by the wind too. It can depend on where one lives in the Wellington region as to the degree of wind one experiences. In Lower Hutt (where I currently live) for example, which is roughly 14 kilometres from Wellington, and sheltered by surrounding bush clad hills, the wind can be notably absent or less robust, though Lower Hutt certainly gets a good clouting from the spring equinox winds as well, and often experiences gale force southerlies. Lower Hutt is generally warmer (up to 4 degrees more in summer) though its winter frosts are more severe. It also has a river running through its valley. This river, known as the Hutt River, winds a watery 56 kilometres from the Tararua ranges out into the Wellington harbour.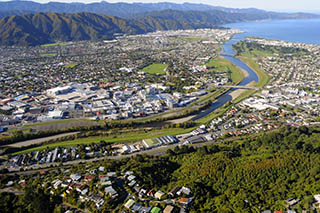 Lower Hutt city from the air. Click on photo to enlarge.
Photo courtesy of Ken George Photography.


Wellington City from Mt Victoria lookout. Amateur photo, (please excuse quality). Click on photo to enlarge.
As we lived just across the road from this river, I spent a lot of my childhood playing on its banks amongst the trees and bushes (there were a lot more back then), or cycling back and forth over the walkway that is attached to one of the train bridges that span the Hutt River. This walkway shakes as trains rush past on their way up or down the valley. It is both somewhat scary and exciting all at the same time. Often I would race about the riverbank on my push-bike (in those days I had energy), or I would race along the top of the river bank. I remember cycling so fast one day that as I neared a bend I had to choose between going over the bank or into a concrete wall. I chose the bank and whatever was hidden within its beckoning foliage. Though I still managed to ride my bike home, it was with a little less skin, healthy samples of blood, a few added bruises, and what would later become a wee scar or two near my eye, not that visible now. I think such was due to the cheap sunglasses I was sporting at the time, not my usual attire. Perhaps I was incognito that day, lost in some secret childhood mission gleaned from those Famous Five or Secret Seven Enid Blyton novels that I loved to read whilst sitting beside the dining room fire during winter with the rain or hail taping at the window as the southerly winds moaned and groaned.
How's that snack going? Mind those crumbs.



My push-bike was like my horse. Where I went, so went my push-bike. I used to kit it out with mirrors, mud flaps, speedo, lights, bell, horn, even indicators. Sometimes I would strap a thick piece of cardboard to the back forks allowing a little amount of the cardboard to poke through the spokes. As one cycled it would sound like a motor, though it did tend to slow one down somewhat. It certainly got folk looking though. If you picked up enough speed, you could sail past onlookers with your legs off the pedals. That really got them wondering whether you might in fact have a little motor of some sort. The faster you went the better it sounded. Once round the corner though, it was back to peddling. On one occasion I was so busy trying to outpace a friend, and so busy glancing back to see whether he might be gaining on me, that I cycled straight into the back of a parked car. It's amazing how tough bikes were in those days. The car? Let's move on. Another day, cycling side by side, my friend and I actually locked handlebars. Now that's a scary thing! There is another scary thing though. Brake failure approaching a busy pedestrian crossing at speed. How I managed to find a gap as I hurtled through the midst of those crossing the road I still don't know. I hate to think what they thought of me. I never went back to see if I could see any shoes.
I can still remember when I bought my first bike, funded by the money I got from my brother for polishing his shoes each week. As I very carefully wheeled my brand-new three geared bike out of the shop, smile all over my face, I luxuriated in the smooth tick tick tick that I could hear as I proudly wheeled it along. In time it was soon hitting the trail, sliding through gravel, and speeding straight down the relatively steep stop-banks that had been created to prevent the river from spilling over into the nearby streets. One day they nearly did. If I wasn't cycling with my hands off the handlebars I was holding the handlebars whilst standing on the carrier behind my seat, or on the seat itself. Perhaps I should've been in a circus. I certainly acted like a little monkey at times.

And, let me add, dreams do come true (sometimes thanks to modern inventions), and hence why I now get around on an electric bike. Yes, no more need for that thick piece of cardboard given I've now got the real deal. And oh, what fun! Time the whole world caught on. A bike that takes you wherever you wish to go with or without peddling. Just below I've placed a link to a hurried 13 minute video clip of me riding my electric bike along a portion of the Lower Hutt river, things having changed quite a bit since I was a kid, far less trees and bush around. You'll see more of the river towards the end (and by the way, the picture quality can be adjusted).

Unfortunately, I had motor troubles at the time (crook bearings), and hence the abnormal noise; the motor (in the front wheel) otherwise pretty quiet, and I now having a hand throttle (like on a motorbike as opposed to a click-through thumb throttle).

Click here to watch the video clip on YouTube
Well, Wellington itself is a very compact city surrounded by hills where there are ample bush walks, beaches, scenic drives, and great views that overlook its beautiful harbour with its changing moods. In fact, one can live in the Wellington region and hardly feel that they're living in a city as such. One only has to drive a few kilometres out of Wellington to find a very quiet semi-country setting. Trains run to and from the Wellington railway station servicing various suburbs in the Wellington region such as Lower Hutt (a separate city, population 105,500 June 2009 estimate).
When I left school at the age of 15, glad to be free of the schooling system, and having barely done 20 months of secondary school (Hutt Valley Memorial Technical college), I used to catch the train to Wellington where I was training to be a 'commercial artist.' Being the mischievous lad I was, and in a studio three floors up with nothing to do at lunch time, and seated right beside a window one could open, I sometimes took to throwing paper darts, one sailing right across the road beneath me and in through an open window in a building opposite, much to my amazement and boyish delight. There was also a pedestrian crossing within range, but I won't go into that. Do you like chips too? Sorry, I digressed.




Back to those trains. Some of the old train carriages had small verandas at each end surrounded by little fences where one could stand outside enjoying the open air as one travelled to and from Wellington. Such I have fond memories of. It was a bit unnerving looking down at the ground when the train crisscrossed a number of tracks on its way into Wellington station with little tugs to the left or right. Boy, didn't I live dangerously. I should mention too that the train line from Wellington to Lower Hutt where I lived, and still do, runs right beside the edge of the harbour where on wet and windy days the sea spray often lashes at the train. Temper, temper.




Opposite Wellington, on the other side of the harbour, is a lovely little seaside suburb called Eastbourne that has an arty folksy feel. Yes, I wouldn't mind living there. Real estate wise, it's an expensive place to live now. My wife lived there when she was younger and I used to trundle my way out there three or four times a week on my Honda Fifty step-through motorcycle to see her, scarf blowing in the wind, throttle fully wound out, head down. One somewhat wet and gale force night (about 9.30 pm) as I battled my way home at a heart pounding 20 kilometres an hour or so, (oh love, the things you have one do), my bike conked out not long after I rounded a couple of seaside bends. I would have remained there if it hadn't been for a good Samaritan passing by in an old van who told me to grab hold of a window (one that was open of course) and he would tow me back to Lower Hutt (roughly 10 kilometres from where I had conked out). So that's what I did! One hand clutching the window, one hand steering the motorcycle. I'm not sure who deserved a medal, the van driver or me. He certainly wasn't messing about.
Okay, enough of Wellington, but before I move on, here's a poem I penned on Wellington, New Zealand's capital:


Wellington
Wellington, a city of many moods, New Zealand's capital,
A sophisticated cultural centre where the arty dwell,
And where a beautiful harbour reflects all its different moods,
Its diversity, vibrancy, colour, exotic sounds and foods.
A seaside city, houses dotting hills and shoreline, engagingly,
Many nestled midst native bush where one can trek enjoyably.
Yes, the home of seascapes, landscapes, a city of many features,
Tunnels, cable cars, buses, trains, planes, shipping, scenic drives, beaches.
Shopping, entertainment, big city life with a touch of country,
A city with it all, astride New Zealand's midpoint, and proudly.
A territory where a treasure trove of elements combine,
Sultry summer breezes, fresh equinox winds, ample rain, sunshine.
A city that's full of intriguing nooks and crannies, scenery,
One surrounded by stunning hill-top views, flourishing greenery,
And teeming with friendly people, a hive of activity,
Buzzing with excitement, fervour, flowing with creativity.
It's the departure point to New Zealand's South Island via Cook Strait,
The sea dividing the North and South Islands which ships navigate,
And from which they leave Wellington, New Zealand's hub with its big heart,
Where one can explore, dream, reach for the stars, and enjoy a fresh start.
Yes, I'm in love with Wellington, contemporary and bold, yet,
Connected to its past, a blend, an architectural duet.
A place with an intimacy, a warmth, a beat that one can feel,
And which the hearts of all who visit or settle will subtly steal.
Wellington, I'm under its captive spell, addicted to its charm,
Bewitched by its sights and sounds, its picturesque harbour, whipped or calm.
How could I leave, and where would I go? For truly spoilt I am, and
Because I'm proud of Wellington, on her behalf I'll duly stand.
By Lance Landall

By the way, one can travel all the way up the North Island or all the way down the South Island by car, bus, or train. Even on a Honda Fifty, though I wouldn't recommend such unless you're into endurance sports. Yes, you can fly North or South too, and you'll certainly see some great panoramic views, including the likes of Mount Egmont generously iced with pristine snow.
Growing up in New Zealand in the fifties and sixties, I personally wasn't so affected by, nor experienced to much degree, the negative things one hears about those times. Particularly the sixties. I guess that had something to do with the fact that my home life was somewhat sheltered, not that I'm meaning that in a negative way. I didn't attend dances, parties, never did drugs (in fact, was seldom aware of such), never drank, and so on. I might add that alcohol just wasn't around the same back then like it is today, and yet we still had a great time, a better time, as far as I'm concerned. We simply didn't need it, and thus didn't suffer under its influence as a result.






Young people often hung out at milk bars complete with jukeboxes, somewhat like in Happy Days, where one could get very thick milkshakes with a fist full of cream on top, and a dusting of cinnamon, say. Spearmint was one of my favourite flavours, mmmm. The milkshakes were so thick that it was pointless grabbing a straw. Oh, those sudden aches to the head. We could also choose from a range of ice-cream dishes with their various lashings of fruit, fruit syrups, wafers, chopped nuts, and so on, and there was a unique ice-cream called a snow-freeze which one could get from certain shops. It spiralled into a cone from a machine and it was incredibly light and airy, deliciously so. I've never experienced such again but wouldn't mind the chance though, naughty me. It was one of those things in life that are here one minute and gone the next, seemingly never to return. Sounds a bit like money.
Thus, to me, the fifties and sixties were a fairly benign time, a time when one could leave their push-bike at the railway station in the morning and find it still there on returning home from work. One didn't really concern themselves with locking doors or windows, at least not the same. Our groceries were delivered by a youngster on a specially made push-bike, far from aerodynamic; fresh and still warm bread was delivered each morning via van (placed in a bin on one's veranda, our one with a Mickey Mouse face on it. I own up!); and milk was also delivered (in bottles), but via a horse drawn cart. Shops and commercial premises, (except for dairies and service stations), were closed on both Saturday and Sunday which proved to be a blessing in more ways than one. Weekends used to be very peaceful.
Folk made calls from red telephone booths located in various streets. They were enclosed booths like those presumably still seen in England – lots of little windows, sprung door, roof light, coin operated dial phone, button A, button B. There were those, (don't look at me), who on passing such booths would give button B a thump and out would come a number of coins very lucratively.
On a serious note, in those days one could also walk out of a job one day and into another job the next. Not happy with the boss? Bye. Not so now.
I used to have carrier bags on my bike at one stage into which I would put empty fizzy drink bottles that I came across here and there. Then I'd take them to the dairy in exchange for whatever amount it was that one got for returned fizzy drink bottles back then. Well how else could I keep myself supplied with sweets? Gobstoppers, pineapple chunks, assorted jubes, bubblegum, jelly beans, wine gums, buzz bars, licorice, spearmint leaves, orange squash gums, candy floss, sherbet, milk bottles, etc. I guess that's one reason why it has cost me a fortune in dental visits over the years! The dental equipment was rather antiquated back then, and thus somewhat rightly feared. No wonder as school kids we used to call it the murder house!
Children who behaved badly at secondary school, were often despatched to the headmaster's office where they would duly receive whacks across the bottom with a cane. For some reason which eludes me, such was called, "Six of the best." One would try hard not to show that such had been effective. If it wasn't the cane, it was the proverbial leather strap. And I have to say, that many a young lad was thereby spared a worse fate had such not been administered, not that I'm necessarily endorsing either. These days, kids seem to be getting away with just about anything. We seem to go from one extreme to the other. The response to bad behaviour today often equates to nothing more than a smack on the hand with a wet bus ticket. And have things got better? No!
English culture has played a very large part in New Zealand, understandably. Hence many during those times and somewhat beyond were raised on the likes of Beatrix Potter and Enid Blyton books, Rupert Bear, Babar, and on TV programmes like Sooty and Sweep, Thunderbirds, the Basil Brush show, Doctor Finley's Casebook, Spring and Autumn, and the Val Doonican and Des O'Connor shows. And on the radio one would hear tunes from English composers like Eric Coats, Sidney Torch, Earnest Tomlinson, Trevor Duncan, Richard Addinsell. Or hear tunes composed by the likes of the American composer Leroy Anderson. One also used to hear English brass band music. In fact, brass bands were reasonably common around New Zealand back then. Not so these days. There was something special about those brass bands. At Christmas time it was common to see a Salvation Army band moving from street to street in the evening playing Christmas carols. Such was quite stirring.
Along with those tunes that were heard, were the likes of radio soaps such as Portia Faces Life, Doctor Paul, and the Archers, and what I suppose one could call comedy soaps like Dexter Dutton. And then there was The Goon Show and Aunt Daisy -- oh yes, Aunt Daisy -- with her cooking recipes and so on.
As the years have gone by, New Zealand has become more and more Americanised, and much that was and is uniquely New Zealand (or English), has slipped away. Thus, we now see the likes of McDonalds, Kentucky Fried Chicken, Burger King, and a greater amount of American TV programmes, that, to be quite frank, are largely fit for the trash can. Mind you, most countries seem to be churning out similar TV programmes these days, including New Zealand itself. Now, don't get me wrong. I'm the first to admit that many past TV programmes were unworthy viewing, or contained undesirable elements too. It's just that things have deteriorated to an all time low. As the sixties rolled into the seventies, the seventies into the eighties, the eighties into the nineties, and the nineties into the year 2000, things in general, not just in New Zealand but worldwide, gradually spiralled downward, and this has been reflected in so much. Come eight o'clock and it's Fifty Shades Of Grey.
Yes, New Zealand seemed a pretty comfortable and safe country back then, free of serious crime, and somewhat distant from it all. A murder or rape was a rare news item.
During these times my mother remained at home while Dad worked, common practice in those days, and she did so right up until I was about 14 years old, and then, she only worked for an hour or two mid afternoon but enough time though for me to start getting into a little bother once home from school and mum not about. I've always appreciated having had a stay at home mum. She was born in Wellington, by the way. Like my mother, my wife has also managed to be a stay at home mum (despite the hardships we've been through), and I believe such has made all the difference to our children. These days so many children get left at child-care centres almost from birth it seems. My daughter who has worked in a child-care centres has seen the sad results of such, and there is in fact research backing this up. But as with so many things, it's not until sometime further down the track that we discover that what we thought was a great idea wasn't such a great idea after all. Cell phones are a prime example.
My mother was a good cook. She loved cakes, and such were a weekly affair (daily at the table), which I guess didn't help my dental situation. Dad, on the other hand, was a keen gardener, thus our back section was devoted to all manner of veggies -- corn, potatoes, tomatoes, beans, peas, lettuces, cauliflower, cabbages, beetroot, carrots, rhubarb, pumpkin, marrow, parsnips, radishes, leeks, celery, onions, mint, and parsley. And we had a lemon tree. Oh yes, chooks too, hence eggs. I didn't particularly like feeding the chooks. I don't know whether they needed spectacles or not but their beaks would get too close to my toes for comfort.
Pets? A common tabby cat called Tinker and a budgie called Billy Peach. Each day Dad would repeat things to the budgie as he passed by its cage. In time it would rattle off its name and our address, tell my sister to hurry up for school, and I'm not sure what else. I had a guinea pig too, but not for long, as I popped it on the ground to give it a little freedom and it took more than I intended. I've no idea where it went.




The music that waffled across the air-waves (2ZB, 2YA) during that time ranged from Mario Lanza to the Beatles, and in between or along with was the likes of Jim Reeves, Engelbert Humperdinck, the Vogues, John Gary, Frank Ifield, Cliff Richard, the Sandpipers, Donny Osmond, Doris Day, Tony Mercer, Glen Campbell, the Swingle Singers, John Denver, Simon and Garfunkel, Robert Goulet, Elvis Presley, Bing Crosby, Perry Como, Gilbert O'Sullivan, the Carpenters, the Lettermen, the Mamas and the Papas, the Supremes, Tony Bennett, Sammy Davis Jr, Roger Miller, Johnny Mathis, Donovan, Gene Pitney, the Seekers, Pat Boone, Joan Baez, Mary Hopkins, Bob Dylan, Shirley Bassey, Seals and Crofts, Don Estelle, Frank Sinatra, Matt Monro, the Singers Unlimited, the Beach Boys, Petula Clark, the Fifth Dimension, the Seekers, the Johnny Mann singers, the Jankowski singers, the Ray Conniff singers, Sergio Mendes and Brasil 66, and where shall I stop? There were so many songs that I liked, (let alone singers or groups), and there were certain songs that for one reason or another have particularly remained in my mind throughout the years, as is the way.

When I was very young, and had no radio of my own, and shared a bedroom with my brother, I sometimes listened to music on my brother's crystal set, a very simple and primitive radio receiver with a limited range that one listened to with headphones -- very common back then. They needed no battery or power source, but needed a long wire antenna, and had to be grounded too. They could also be handmade with a few inexpensive parts.
Such reminds me of how we used to take either a tin can or waxed cardboard honey container, (a bit like a paper cup), make a tiny hole in the bottom of such, and then attach a long length of string to another one of either by poking it through those tiny holes and tying a knot somehow, thus using them like a phone -- the string needing to be taut, of course.

Having mentioned my brother, who I shared the same room with, I'll also share the following with you. We lived in a rather old house, one that had windows that to open or shut you pushed up or pulled down. There were little pullys and rope within the sides of the window. Each window also had a fabric blind which you gently tugged and then moved it up and down to the desired position, either at night or if getting dressed. One night, well past midnight no doubt, when all were fast asleep, my brother was dreaming that he was having a scrap with me, and midst his dream, he flung his arm out and wacked the blind which immediately sent it flying up to the top of the window with quite a clatter where it would spin for a few seconds. Quite funny I thought. Suddenly the room was bathed in moonlight. I can't remember if Dad came looking to see whether burglars had been busy or not, but I know he was easily disturbed in his sleep, so it's quite possible. Or he may have just hollered out, "What's going on!"
Yes, I've heard a lot of singers in my time, but never has there been as good a singers as there were in the days of the crooners, I believe (the English singer Russel Watson one exception). I'm talking about those who had really good voices, not those like most today who only manage to get away with it because of the whole package. Yes, really good voices seem far and few between these days.
When I cast my mind back, it's hard to say who had the best voice, as there were so many gifted singers, and what also made a difference was that they were backed by lush and quality orchestrations and beautiful arrangements. Wonderful melodies abounded, both cheery and reflective. The lyrics were generally more wholesome too. Of all the singers I have heard though, one voice seems to really stand out, and that is the voice of Karen Carpenter, who also sang with her brother Richard, who played the piano. They were a very gifted trio whose vocal harmonising was absolutely brilliant. To my ears, Karen's voice was exceptional, pitch perfect, flawless, unaffected, natural -- yes, extremely pleasing to the ear. Her pointless death was such a terrible loss, one that leaves one sad, for the world is so much the less for her departure. I can't imagine there being another Karen Carpenter, quite frankly.
Another voice that stands out is that of Tony Mercer of Black and White Minstrel fame.

Born in 1951, the music of the fiftties and sixties had a major influence on me. In some ways, I was a product of both the old and the new -- on the one hand exposed to crooners with great voices singing beautiful ballads, (and even Christian hymns -- on the radio, that is -- quite common in those days); pleasant, breezy and bright classical or popular light melodies of the day played by top notch orchestras, and on the other hand exposed to the likes of the Beatles, the Tremeloes, the Bee Gees, the Buckinghams, the Temptations, the Doors, Roy Orbison, Neil Diamond, Herman's Hermits, Tom Jones, Sonny and Cher, The Rolling Stones, the Hollies, the Eagles, Procol Harum, Chicago, Manfred Mann, Dusty Springfield, Cilla Black, Dionne Warwick, and so on.
As a result, I developed a very broad taste in music. I consider myself somewhat fortunate in that I firstly, and most importantly, got a good grounding in more worthy music, unlike today's generation that really only knows or wants to know the kind that's now so prevalent, and far from good music, I believe. They may consider it good music, but it's really all they know, and what they've been programmed to like, pretty much. Mind you, I'm not saying that I don't like anything that's out there today. Heck, there was music in my day that I didn't like, or wouldn't listen too, the Rolling Stones being a prime example.
The other sad thing is that many of today's generation are damaging their hearing via not only the terribly loud concerts they attend but via excessive volume in general, which is even more damaging via the headphones they commonly use. And then there's that low frequency bass that wasn't about in our day that you often hear thumping away in cars that all to often head one's way. Sometimes the thumping's so bad that it makes one wonder why the doors haven't fallen off, the bonnet and boot popped, and the windows shattered. Pity any pedestrian with false teeth! Seriously though, if they only knew what they're doing to themselves and how in time such will remove the very enjoyment they're currently getting.

Yes, during that time the air-waves were full of crooners, and many often graced TV shows as well.
There was also an abundance of orchestras (playing on their own) like Nelson Riddle, Percy Faith, Henry Mancini, Paul Mauriat, James Last, the Hollyridge Strings, Norrie Paramour, Andre Kostelanetz, Tony Hatch, Franck Pourcel, Billy Vaughn, John Barry, Les Reed, Syd Dale, Hugo Montenegro, Anthony Ventura, Robert Farnon, Bert Kaemphert, the Living Strings, the 101 Strings, the Boston Pops, David Rose, Burt Bacharach, Michel Legrand, Pete Moore, Alan Tew, Geoff Love, Joe Loss, Martin Denny, Stanley Black, Arthur Lyman, not to mention instrumentalists like Acker Bilk, Adrian Brett, Chet Atkins, George Shearing, Ronnie Aldrich, Herb Albert, Stephane Grappelli, George Benson, Edie Calvert, Floyd Cramer, Santo and Johnny, Booker T. and The MGs, Russ Conway, Earl Klugh, Roger Williams, Ferrante and Teicher, the Shadows, Horst Jankowski, (some of these also having their own bands or orchestras), and once again, where shall I stop? Records or tapes (cassettes) were commonly available that had any one of these orchestras playing whatever they chose to. As time went by, all this gradually disappeared. These days they refer to it as 'Lounge' music -- that being, music that was popular in the fifties and sixties, which of course included crooners and singing groups. There's so much music that I had that I can't seem to get any more, lovely music that hasn't been reissued on CD. Why I really don't know, given that much that has been reissued from that same era, and earlier, is no where near as appealing.

Okay, continuing on.
There were also those children's stories I used to listen to on the old valve radio in the dinning room on a Sunday morning (ear up against the speaker) like The Selfish Giant, Sparky, Diana and the Golden Apples, Flick the Little Fire Engine, The Happy Prince, The Snow Goose, etc. Riveting stuff!
But getting back to the music.
When I was younger I was actually learning to play the piano for a few years, but you know what most kids are like when it comes to practicing. Somewhere along the way it got dropped, regretably.
Though my musical tastes are very broad, my focus has predominantly been, and still is, easy listening music. Now called lounge music, I think (sixties lounge). In the evening I would sit with my eyes closed taking in every little thing. Woe betide the disturber! My wife would enjoy listening too. One of the reasons I was glad to get out of records as quick as I could and into CDs was because I got fed up with the annoying pops, crackles, clicks, rumbles, etc, that periodically would come from records, or turntables. I considered myself a bit of a hi-fi buff and if my financial situation had been better I would have been into some serious gear. The closest I've come to such is NAD (British), Image (NZ), and Yamaha (Japan) -- the latter at one stage. I once owned a pair of AWA speakers (12 inch Coral woofer, etc), hardly top shelf, but I really found them great at the time, and likewise, those Philips Hi-Fi International speakers. The various brands on the earlier part of my journey included Bell, Akai, Teac, Sharp, Philips, Technics, Kenwood, Sony, Toshiba, Micro Seki.
With the deterioration in my hearing as time has gone by (another story), it has somewhat become a lost cause. Hearing aids now needed for such, and they not like one's own ears. I used to drag my poor wife (and children) around the hi-fi outlets and music (record) shops with me. The knowledge that my dear wife picked up overtime would sometimes outshine that of some sales assistants. Direct drive verses belt drive, bass reflex verses infinite baffle, ceramic verses magnetic, crossover networks, acoustic suspension speakers, tweeters, squawkers, woofers, monster cable, and on and on it went.

The sound of the Hollyridge Strings (not to be mistaken for the Hollywood Strings), an American studio orchestra, epitomised the sixties for me with its bright, breezy, spacious and unique sound. I must admit that I do lapse into moments of nostalgia from time to time, for much that I heard back then, which was brighter, happier, even restful and wholesome, no longer reaches the ears, or hardly so. The music we hear today seems to have a fixation with beat, incessant and overemphasised, and also a fixation with the sexual. Today's music often just expresses anger, hopelessness, restlessness, and discontent. It also lacks beauty. Which reminds me, back in the fifties, sixties, there seemed to be a greater emphasis on romance than there was on sex, as compared to today, and there was much more chivalry, general respect and thoughtfulness.



You know, even the TV programmes back then had more going for them in the way of values, morals, lessons, etc. Back then, good guys dealt to the bad guys, whereas today, it seems that it's the bad guys that get the thumbs up. At any rate the standard was generally better back then. Amongst those early TV programmes and somewhat beyond were the likes of Bonanza, My Three Sons, Doctor Kildare, Stony Burke, Lassie, Mr Ed, the Waltons, the Andy Griffiths, Andy Williams, Dick Van Dyke, and Black and White Minstrel shows, and so on, some watched while eating fish and chips from the local fish and chip shop, a Thursday night treat back then. A diet completely free of flesh food came somewhat later, for health reasons, let me add. New Zealanders have always had access to copious amounts of dairy products and flesh food. Such is promoted vigorously. It's a shame that most people don't take the time to seriously look into things. They would certainly get their eyes opened if they did.
Another treat at that time, though not so much for me (10 years old), and before we had TV, was the Tuesday night the family watched TV at a friend's house a few kilometres away. There I sat on the floor, often spooked and grabbing at my poor mother's legs much to her howls of protest as The Naked City or Adventures In Paradise beamed into the semi-darkened room from the latest black and white TV. I guess I had a good grip. My brother, who worked not far from our friend's house, used to cycle to our friend's house after work, and afterwards would bike home in the dark. I remember him saying how he used to cycle for all he was worth on his three geared push-bike lest who knows what jumped out from behind the bushes and trees -- ahhh! -- all courtesy of the programmes just viewed and the menacing shadowy images still lurking in one's mind; mild images compared to those left on the mind today.
To be fair to my parents, they were still growing in their new found faith, and I was a youngster who was a part of that growing experience. As time went by, my parents no longer indulged in certain things they once might have. Personally, I've since come to the conclusion that one should be very discerning in regards to what one watches, that role-playing is wrong in principle, unhealthy mentally-emotionally, and incompatible with Christian belief and practice. To me, acting is a childish thing, and thus drama simply an adult version of childhood make-believe that people of maturity and dignity surely wouldn't want to participate in, and given its associated shallowness and artificiality. This subject is covered via some poems (and articles) on my website.

"All actors, in some way, suffer for their craft, with the very act of losing oneself inside another being
coming at a high price."
Betsy Sharkey, Los Angeles Times, 31/12/2010


When TV was early on the scene in New Zealand, some shops would leave a TV running in their window with a speaker positioned outside the window so that passers-by could watch and hear. One evening my brother (another one) was watching a western, probably something like Rawhide, Laramie, or Bonanza. At the same time as one of the cowboys drew his gun, a passing car backfired. I understand my brother virtually buckled at the knees. I've a picture in my mind of him clutching his chest expecting to find something untoward. He should've been at home helping me with my Meccano set!



To continue: When we drove anywhere, if one was lucky enough to have a car, that is, it was in Humbers, Austins, Fords, Holdens, Morris Minors, Vauxhalls, Cortinas, and so on. Yes, no seat belts, slippery as leather seats, and column change. Because a lot of cars had bench seats in the front as well as the back, two people could sit up the front with the driver, allowing six people in all. It was rather nice when your wife was romantically snuggled up to you as you drove. Bucket type seats and floor shifts prevented such. I once owned an old 1951 Ford Prefect that had a wind out front window. It certainly came in handy on hot summer days. Mind you, the window only wound out about 3 or 4 inches. Some of the things we see on modern cars aren't so modern at all. They were around when I was a child -- push button gears (automatic) on the dashboard, for example.
One day I left a little transistor radio on the roof of my Prefect after I had been busy cleaning it. I only became aware of it after it fell off while I was crossing the Ewen bridge, which meant that it had remained on the roof for about 4 kilometres.
One day I painted a black racing stripe down the side of this car. It ran from the beginning of the bonnet, over the roof, and right down the back. It didn't make it go any faster but it was all the rage at one stage. I can't believe some of the silly things I used to do, and I'm sure I'm not alone in that.
People really looked after their cars back then, and kept them for many years. They would kit them out them with mud flaps, roof racks, mirrors, extra lights, tow bars, and so on, things that are pretty much stock standard today. And of course there were those white wall tyres. Over the years my Dad had a number of cars such as a 1955 Ford Customline, a 1958 Gold Flash and a 1952 Chevrolet. Personally, I wouldn't have minded a 1964 convertible Impala.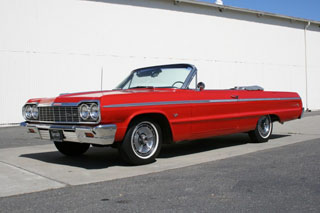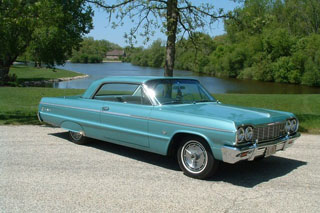 Two examples of a 1964 Impala. Click on photos to enlarge.
Another car that interested me was the 1964 Daimler Dart SP250, V8.
These days, New Zealand's roads are full of Toyotas, Nissans, Mitsubishis, Mazdas, Suzukis, Hondas, and so on. New Zealand's car ownership is one of the highest in the world. New Zealand roads are pretty reasonable in the scheme of things but be prepared for the unexpected and in some cases shingle covered stretches. And I would watch those potholes that seem to pop up (or is that down?) with ever increasing frequency when one's driving about town. It's almost as if they know when you've had a wheel alignment done.

Speaking of cars — well, some cars — a poem I penned about a car can be found in my light-hearted section, and its title being: Don't Cry For Me Argentina.
When I was a youngster, my parents used to travel around the North or South Islands each year, which somewhat put me off travel. I didn't find it much fun being stuck in the back seat and being dragged from town to town often midst sticky summer days. My parents would be waxing lyrical over the scenery while I was lamenting not being back home where I was free to roam (or was that patrol?) the neighbourhood.
The only relief seemed to be the motor camps we stayed at, and cooler evening breezes. Oh yes, and the food. I am a male remember. My parents travelled quite extensively, not that I can remember that much now. One time that seems to stand out though, was our trip to the Milford Sounds. A tourist must! Milford Sound is a fjord near the bottom of the South Island with majestic scenery. It is known as the wettest inhabited place in New Zealand and it certainly was wet the day we visited it. I spent a number of hours in a cabin sketching (copying) Walt Disney figures. Sketching was something I did quite a bit of when I was young. I became extremely good at copying things but never became good enough to do them just as good from memory -- not even close.Sorry, Rudyard Kipling described Milford as the eighth wonder of the world. The Milford track is said to be the finest walk in the world.

Yes, the world has changed, and so has New Zealand, sadly, for just like pretty much elsewhere we're having to deal with crime, be that in the form of murders, rapes, violence, drug busts, or the general lawlessness, crudity, foul language, graffiti, etc, that pollutes the environment just as much as do the gases from copious cows and sheep on farms that dot our green countryside.
But for all that, New Zealand is still a good place to live, uncluttered with approximately 4.3 million inhabitants and sporting beautiful scenery from top to bottom that visitors to our country wax lyrical over – fiords, glaciers, lakes, rainforests, grassy plains, rivers, snow fields, and mountain ranges such as the Southern Alps (larger than the French, Austrian, and Swiss alps combined). The North Island is less mountainous but marked with volcanism. It also contains New Zealand's largest city, Auckland, which isn't all that far away from the top of the North Island. The population of Auckland is around 1.5 million. Wellington's population is around 350,000.
Fortunately, as of this date, New Zealand has been a country unscarred by wars, or civil wars, etc, excluding of course, the early settler skirmishes with the Maoris. Yes, there are motorcycle gangs scattered here and there, preoccupied with violence, drug running, prostitution, etc; there is other criminal activity going on, be that via individuals or organisations; there have been energetic protests, but nothing really nasty like we see outside our shores (except for that shameful anti-vax riot that took place in Wellington; and rising crime since Covid); there is a lot of violence; there are murders and holdups; there is rampant domestic abuse (a call out every four minutes); and racism does raise its head, but New Zealand still a great place all the same.
The New Zealand police don't carry guns on them (just locked in their cars) but they do have an Armed Offender's Squad that is called out when shootings take place. While New Zealanders aren't armed like Americans, there are a lot of guns about due to the authorised hunting of animals like deer, ducks, wild pigs, and rabbits. Fortunately we don't have any creatures that pose a real physical threat like snakes, crocodiles, wolves, scorpions, etc.
We do have a democratically elected government but voter turnout (voluntary) often isn't what it should be due to disillusionment with politicians -- a universal problem it seems. It's not until some lose their freedom that they fully appreciate the opportunity to be able to vote. Though currently running an MMP system, thank goodness, it's either the National party or Labour party (socialist) that holds the balance of power. Labour has traditionally shown more heart towards those who're less fortunate compared to the National party that seems to largely just look after its own (the more well off), but the Labour party unfortunately seems to attract the anything goes brigade, is a very emotive party, and these days has got further away from its roots. National on the other hand seems to attract hard right elements, is somewhat known for adopting slash and burn approaches, privitizes, sells off public assets, and sometimes introduces draconian measures -- all detrimental. One might say that the Labour party's heart isn't connected to its head and that the National party's head isn't connected to its heart.
Unfortunately, New Zealand seems to have become a testing ground for many things, thus, New Zealanders have effectively become unwitting guinea pigs. Or could that be, willing guinea pigs? Why do I say that? In my mind, New Zealanders have been too quick to grab hold of anything that's new on the market, and too often the things that are implemented here are things that have proved a failure elsewhere.
Many New Zealanders own their own homes but there is a large proportion that lives in rental accommodation -- the government being the biggest provider and landlord. However, this is changing. Owning a home is becoming more a dream than a reality now.
Oh yes, we do seem to be positioned on rather shaky tectonic plates, not that they're generally a bother. I said, generally.
As a rule, New Zealanders are give-it-a-go, do-it-yourself types, creative, inventive, friendly, very down to earth, well-travelled, and pretty on to things. New Zealanders have excelled in many areas on the world stage, be that in sports, science, medicine, music, or other. The one thing you'll discover about New Zealanders is that they really love their sports. Personally, I was never into sports, but had I seriously been so it would have been the likes of long-distance running, soccer, or tennis. Bowls isn't too bad, mind you.
We seem to have named ourselves kiwis after our little flightless bird, and national icon, thus, on behalf of my fellow kiwis, you're more than welcome to pay us a visit. Let us know and we'll put the kettle on. If you can't visit us physically, visit the web and type in New Zealand, and that way you'll still be able to enjoy our country, albeit from a distance. Otherwise, you can always contact me via my website for a chat. Perhaps there's something you might like to share with me.
I guess you've finished your cuppa by now, or has it gone cold?
Cheers,
Lance

P.S.

Updates-cum-further insights regarding NZ:

Gay marriage legalised.
Smacking outlawed.
The city of Christchurch (near middle of South Island) hit by serious earthquake in 2011 resulting in much damage.
Oil rigs now operating off our coasts.


Christchurch 2011


Oh, Christchuch, Christchurch, how you've suffered so, and borne the brunt of that which we all fear,
Hence our deepest sympathy, our condolences, for in our hearts, your pain we share.
And how we watch with admiration, for your spirit's strong, and recover, you will,
Thus, midst your present suffering, and those days ahead, may peace and hope, your hearts fill.


Controversial buying of NZ farms, etc, by outsiders.
Kaikoura struck by 7.8 earthquake seriously rocking Wellington. Much damage to Kaikoura and districts (near top of South Island), some to Wellington (bottom of North Island). 14th November 2016, 12:02 am.
Mass shooting of Muslims in Christchurch by white supremacist. Fifty murdered and as many wounded. 15 March 2019.
Many streams and rivers polluted now due to animal (cows, sheep) farming.
White Island, an active volcano and tourist attraction, erupts killing and badly burning tourists, 9 December 2019.
Abortion legalized March 2020.
NZ goes into lockdown for a month, March 2020.
Restricted euthanasia legalized 2020.
Serious flooding damage, North Island, 2023.


Cyclone Gabrielle
Since parts of New Zealand's North Island were ravaged by floods, twenty, twenty three,
Thrown into darkness and isolation via climate change reality,
The country's responded with the same spirit that lives in every Kiwi,
That creative get up and get on with it number eight wire mentality.
But a
contemporary
version built on the backs of early pioneers,
Who doggedly carved and shaped Aotearoa with the same sweat and tears.
Yes, we very much our own people, having had to go it alone since when,
A country with the same determination that drove those past women and men.
By Lance Landall
"I would rather belong to a poor nation that was free, than to a rich nation that had ceased to be in love with liberty."
Woodrow T.Wilson (1856-1924)